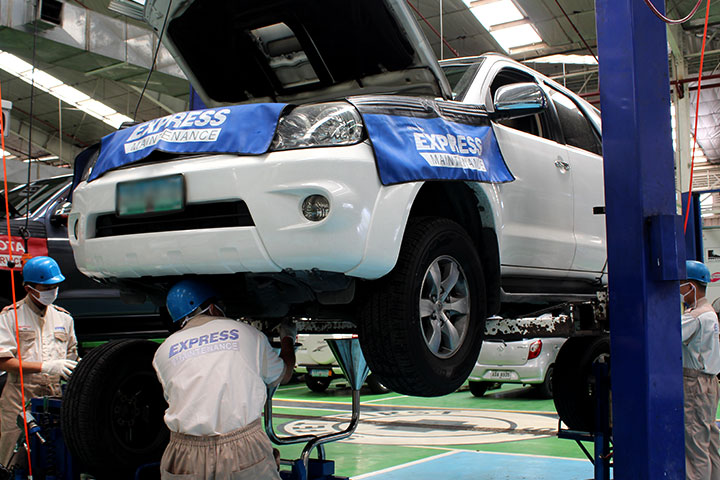 EXPRESS MAINTENANCE SERVICE 1-hour Preventive Maintenance Service
We believe that you should spend more time doing things you love than waiting long hours for car service.
That's why we created the Toyota Express Maintenance (EM) service, the first and only one hour complete Periodic Maintenance (PM) service available in all Toyota Dealerships nationwide.
What is Express Maintenance?
Express Maintenance (EM) service is a complete Periodic Maintenance Service (PMS) made faster.

It is not just an ordinary change oil job but a complete maintenance service.

EM guarantees 1 hour service from reception to vehicle release as compared to regular PMS which takes at least 2 hours to perform.
IMPORTANCE OF PERIODIC MAINTENANCE
Only Toyota knows your Toyota, that's why it's best to have your car serviced only at Toyota dealers where genuine parts and quality service are guaranteed. Plus, you may enjoy the following benefits:
Excellent running condition

Better fuel economy

Longer vehicle life

Higher resale value
WHAT HAPPENS TO THE VEHICLE IF PERIODIC MAINTENANCE IS NOT PERFORMED?
The vehicle's safety level will be reduced or its pollution control will be affected. It will shorten the service life of the automobile.
304 Shaw Blvd
Pleasant Hills, Mandaluyong, 1552 Metro Manila